Introducing
Foot Doctor
Anthony Chionis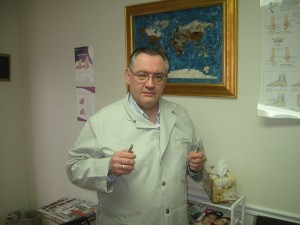 Please Note:  New address for the Howard Beach Office now located at 88-08 151 Avenue, Howard Beach NY 11414.
What difference does it make which foot  doctor – specialist you make an appointment with?  Well for one thing, Foot Doctor Anthony Chionis (Podiatrist) believes in learning more about the patient's personality, and how they are  feeling instead of how much money he can get from your health insurance.  Foot Doctor Anthony Chionis has a conservative approach that treats every patient like family.  He is sincere, concerned, and ready to provide you with the best possible treatment and prognosis for whatever ails your feet.  His foot care office is cozy without too many assistants bumping into each other.  So you know your not paying for more people than you have too!  After all what do you want to pay for, a fancy office or a good foot care specialist?
Foot Doctor Anthony Chionis accepts most health insurance plans, and accepts credit cards and personal checks as payment. His answering machine is always on (24/7) and he will return your phone call the same day.  How many doctors do you know who will service you instead of the other way around?  He has taken an oath to serve and comfort his patients; an oath he takes very seriously.  So why not call today for a consultation!

What's new?  Foot Doctor Anthony Chionis is now offering laser treatment for fungus toe nails.  Call the Doctor for further information at the phone numbers listed below!
 Sick Or Elderly Can't Travel, Doctor Will Come To You!
Foot Doctor Anthony Chionis is a foot care specialist who will treat your feet condition (if possible) in the convenience of your own home.  In treating all types of foot pathology from ingrown nails to heel pain, Foot Doctor Anthony Chionis has realized the difficultly of traveling in bad weather or when you are unable to walk altogether.  Foot Doctor Anthony Chionis will attempt to alleviate foot pain by various modalities and treatment methods.  He will approach every patient with care to make them feel at ease within their home as well as in the office. All it takes is for you to call Foot Doctor Anthony Chionis at one of his two locations:
Howard Beach  (718) 323-0079
Tuesday 9:00 – 5:00
Thursday 11:00 – 6:15
Bronx NY……. (718) 892-5542
Monday 9:00  – 5:00
Friday 9:00  – 4:00
Saturday 9:00  – 12:30

Foot Doctor Anthony Chionis – History

Foot Doctor Anthony Chionis attended Fordham Preparatory School and graduated in 1984. In 1988 he received a Bachelor of Science degree from Fordham University.  He furthered his studies and graduated with national honors from New York College of Podiatrist Medicine in 1993.  Foot Doctor Anthony Chionis has been a Podiatrist/ foot care specialist for 20 years.
Got Questions?
If you have any foot care questions, you may email Foot Doctor Anthony Chionis at doctorchionis@aol.com, or by twitter, code name drchionis.  Please make sure you leave your name, and details of your questions.  Please allow reasonable time for the Foot Doctor to answer your inquiries.  You may leave your address and telephone number for future reference.